Top 5 Events Calendar Plugins for WordPress
The following are few of the best calendar plugins for WordPress websites. These plugins could help you fulfill your needs for your small business events.
Every Plugins has their own importance and unique purpose to fulfill your specific needs, and can also be easily customized according to your requirements and will make your small business website or blog more engaging for the visitor.
This is a simple but effective Calendar plugin for small business websites that allows you to manage your events and appointments and display them on your website.
Contains the Features like:
Monthly view of events
Mouse-over details for each event
Events can span more than one day
Multiple events per day possible
Events can repeat on a weekly, monthly (set numerical day), monthly (set textual day) or yearly basis
Repeats can occur indefinitely or a limited number of times
Easy to use events manager in admin dashboard
Sidebar function/Widget to show today's events
Lists of upcoming events can be displayed in posts or pages
Comprehensive options panel for admin
Modifiable CSS using the options panel
Optional drop down boxes to quickly change month and year
User groups other than admin can be permitted to manage events
Events can be placed into categories
A calendar of events for just one of more categories can be displayed
Events can be links pointing to a location of your choice, Full internationalization is possible
Compatible with WordPress MU.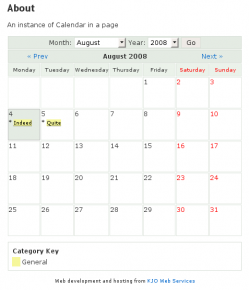 The Events Calendar / Scheduler plugin for WorPress, provides Ajax-based scheduling solution similar to Microsoft Outlook Calendar, Apple's iCal or Google Calendar. The plugin allows you to manage single or multiple user events through easy and intuitive dynamic interface. Users can add/modify/delete events on the fly and easily change events dates and time by simply dragging the event boxes. You can set up different levels of permissions to people who will use the calendar.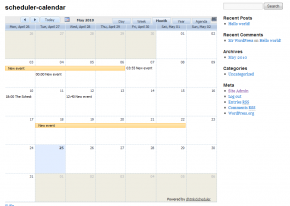 The scheduler can be configured to display events in Day, Week, or Month view, as well as in any custom view. If there is a need to display recurring events, users can create events which will be repeated on daily, weekly, monthly or yearly basis.
The events calendar plugin for Word Press enables you to rapidly create and manage events. The plugin include features like: Google Maps integration as well as default templates such as a calendar grid and event list, widget and so much more.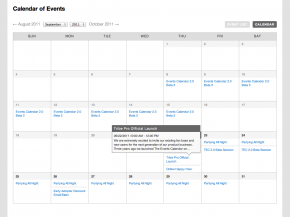 Includes recurring events, the ability to sell tickets, manage conference schedules, accept user submitted events automatically and it also supports Google Maps Integration, Upcoming Events Widget, and Calendar month view with tool tips. Includes support for venue, cost, address, start and end time, Google maps link and also compatible with WordPress MU.
Google calendar widget for Word Press Enables a widget for showing a Google Calendar on the sidebar. Once installed it adds a sidebar widget called 'Google Calendar' that may be dragged into your sidebar. Each widget can be configured with a URL of the calendar feed, a title, and the number of agenda items to show.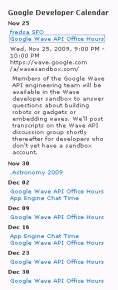 The Plugins allows multiple widgets can be used on the same page and each one can reference a different feed.
Google calendar events plugin for Word Press Parses Google Calendar feeds and displays the events as a calendar grid or list on a page, post or widget.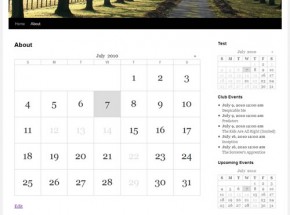 Includes features like: Displays events as a list or within a calendar grid, Events from multiple Google Calendar feeds can be shown in a single list / grid, Lists and grids can be displayed in posts, pages or within a widget, Options to change the number of events retrieved, date / time format, cache duration etc, Complete customization of the event information displayed.
---
Zaaviya – CMS Website Design, Web Development, Mobile App Development, SEO & Cloud Services
---